Offline Transcription
No data leaves your Mac
Fast, privacy-focus way to transcribe audio, video, and podcast files.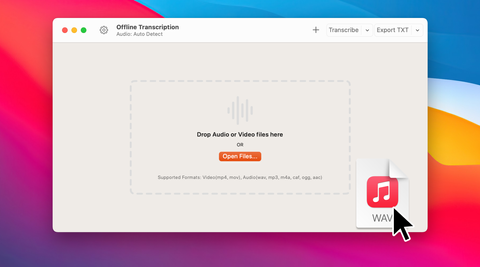 Drag and Drop
Drop Audio or Video files to the app. Supported mp3, wav, m4a, ogg, aac, caf, mov, and mp4 formats.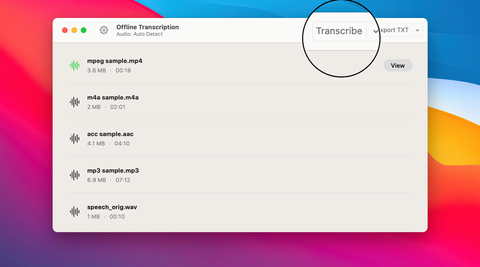 Transcribe
One-click to transcribe all files.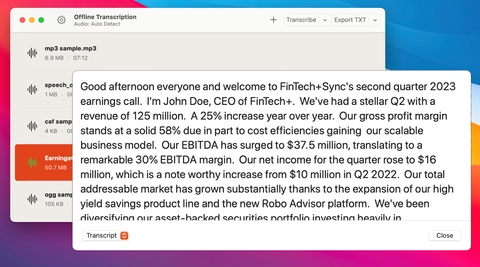 Transcript
Quick Look at your transcription.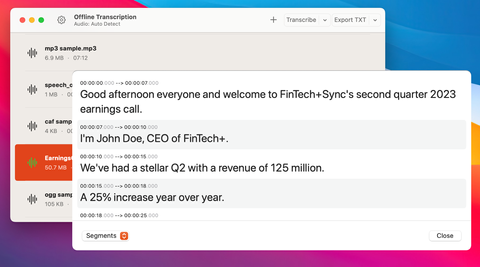 Subtitle Segment
See the timing information and the words spoken at that time.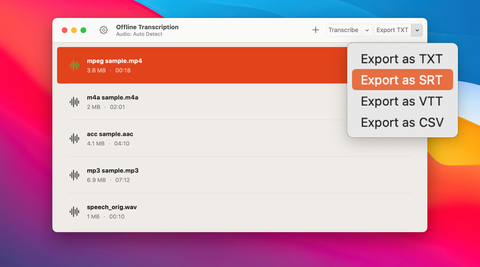 Export
4 Export options. Export transcription to text, vtt, srt, or csv.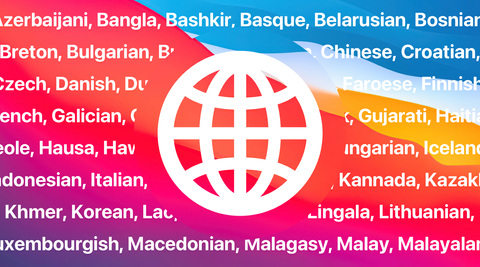 Supported 100 different languages
The app can transcribe audio in 100 different languages:
Afrikaans, Albanian, Amharic, Arabic, Armenian, Assamese, Azerbaijani, Bangla, Bashkir, Basque, Belarusian, Bosnian, Breton, Bulgarian, Burmese, Catalan, Chinese, Croatian, Czech, Danish, Dutch, English, Estonian, Faroese, Finnish, French, Galician, Georgian, German, Greek, Gujarati, Haitian Creole, Hausa, Hawaiian, Hebrew, Hindi, Hungarian, Icelandic, Indonesian, Italian, Japanese, Javanese, Kannada, Kazakh, Khmer, Korean, Lao, Latin, Latvian, Lingala, Lithuanian, Luxembourgish, Macedonian, Malagasy, Malay, Malayalam, Maltese, Māori, Marathi, Mongolian, Nepali, Norwegian, Norwegian Nynorsk, Occitan, Pashto, Persian, Polish, Portuguese, Punjabi, Romanian, Russian, Sanskrit, Serbian, Shona, Sindhi, Sinhala, Slovak, Slovenian, Somali, Spanish, Sundanese, Swahili, Swedish, Tagalog, Tajik, Tamil, Tatar, Telugu, Thai, Tibetan, Turkish, Turkmen, Ukrainian, Urdu, Uzbek, Vietnamese, Welsh, Yiddish, Yoruba
Get Offline Transcription
Fast, privacy-focus way to transcribe audio, video, and podcast files.